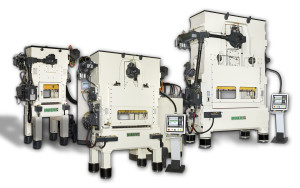 BRUDERER UK was formed in 1968 BRUDERER UK has established a reputation of unrivalled excellence in the sphere of high speed precision stamping. From their luton offices.
BRUDERER UK is the UK's Industry Leader in High Speed Mechanical Stamping Presses ranging from 10 – 250 Ton offering both new and preowned presses with an extensive portfolio of Ancillary Equipment like Servo Feeders, Decoilers, Coil Handling, Die handling, Lubrication systems both roller and spray units in edition to Tool Protection and Tool Monitoring and Scrap removal transporters to mention a few.
We also provide Non Bruderer Mechanical Servo Presses up to 1000Ton via our agency in the UK for ZANi Presses, Hydraulic Presses up to 5000 Ton capacity and pneumatic presses up to 50 Ton capacity to cover all your stamping requirements.
Supporting our many machines in the field with have a full capability to supply our customers with authentic "BRUDERER MADE" spare parts plus service engineer support nationally both in the UK & Ireland from its Luton based team of Swiss Factory trained service engineers and personnel.
Its also been in our ethos for many years to provide much more than presses, we offer a vast range of ancillary equipment for all your press shop requirements including Servo Feeders, Mechanical Feeders, Air Feeders, Decoilers, SMED Equipment, Die Handling, Die Lifters, Tool Protection, Tool Monitoring, Tool Sensors, Pneumatic and Electric Transporters not mentioning our quality inspections equipment, FIBRO tooling from Germany, strip welding, lubrication systems and much much more!
WE ARE ONE NAME. A MULTITUDE OF POSSIBILITIES.
---
BRUDERER employs some 500 people all over the world, 390 of whom work at the Frasnacht site in Switzerland, where all BRUDERER's high-performance stamping presses are produced. 95% of the company's products are manufactured for the export market. Sales and service organisations located all over the world combine with the company's own skills centres, for example in Asia to ensure direct contact with customers.BRUDERER is facing the challenges of the 21st century with the very same attributes that have made it great since its foundation:
PERFORMANCE – PRECISION – QUALITY
BRUDERER UK LTD